Blackmores Multivitamin for Men 90 Tablets Men's Performance Multi Energy Stress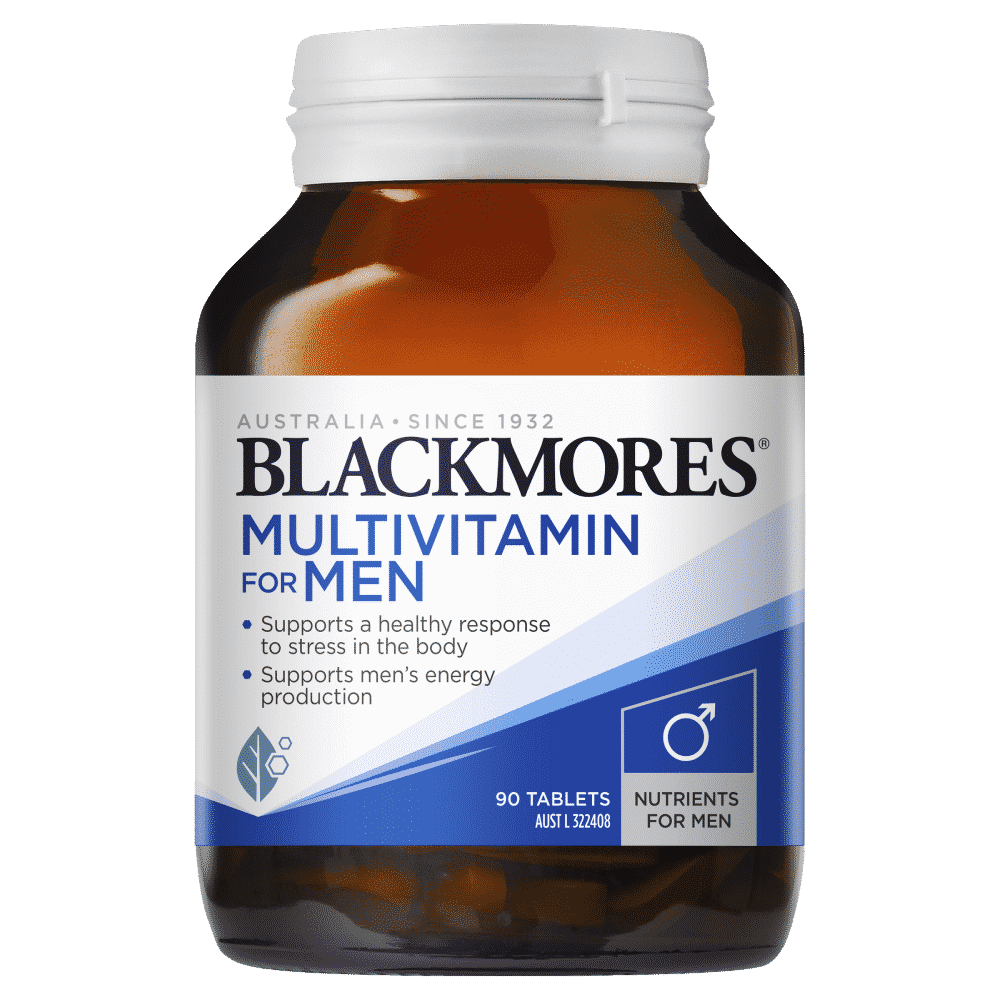 Blackmores Multivitamin for Men 90 Tablets Men's Performance Multi Energy Stress
Blackmores Multivitamin for Men is a comprehensive blend of 21 nutrients, designed to support men's health and wellbeing. This one-a-day tablet supports a healthy response to stress in the body, men's energy production and healthy sexual function.
Supports general health & wellbeing
Supports a healthy response to stress in the body
Supports energy production & aids post exercise recovery in active individuals when dietary intake is inadequate
Supports healthy sexual function & reproductive system health
Supports immune system health
Supports cognitive function
Supports nutrient levels in the body
Supports healthy blood circulation
Helps reduce free radical damage to body cells
Helps convert food into energy
One-a-day
90 Tablets
AUSTRALIAN MADE. NO ADDED YEAST, GLUTEN, WHEAT, MILK DERIVATIVES OR PRESERVATIVES. NO ADDED ARTIFICIAL FLAVOURS OR SWEETENERS.
Product Description
The Blackmores Difference
At Blackmores our multivitamins are formulated to deliver doses of key nutrients to support your general health & wellbeing.
Blackmores Multivitamin for Men also contains additional ingredients which have been specifically selected to support performance, including:
Tribulus:
Traditionally used in Chinese & Ayurvedic medicines to support male sexual performance.
Zinc:
Supports exercise performance, immune function and male reproductive health.
Milk thistle:
Traditionally used in Western herbal medicine to support a healthy liver.
Active Ingredients per tablet
Thiamine nitrate (vitamin B1)
30 mg
Riboflavin (vitamin b2)
15 mg
Nicotinamide
30 mg
Calcium pantothenate
(pantothenic acid, vitamin B5 64.1 mg)
70 mg
Pyridoxine hydrochloride
(vitamin B6, pyridoxine 24.7 mg)
30 mg
Cyanocobalamin (vitamin B12)
40 µg
Ascorbic acid (vitamin C)
100 mg
d-alpha tocopheryl acid succinate (natural vitamin E 25 IU)
20.7 mg
Biotin
50 microgram
Folic acid
300 microgram
Inositol
25 mg
Calcium hydrogen phosphate- anhydrous (calcium 50 mg)
170 mg
Potassium iodide (iodine 50 microgram)
65.4 microgram
Heavy magnesium oxide (magnesium 35 mg)
63.1 mg
Manganese amino acid chelate (manganese 2 mg)
20 mg
Zinc amino acid chelate
(zinc 15 mg)
75 mg
Selenomethionine
(selenium 26 microgram)
64.6 microgram
Turnea diffusa (damiana)
extract equivalent to dry leaf 1 g (1000 mg)
Tribulus terrestris
extract equivalent to dry fruit 6 g (6000 mg)
Gingko biloba (ginkgo)
extract equivalent to dry leaf 500 mg
Silybum marianum (milk thistle)
extract equivalent to dry fruit 4 g (4000 mg)
Dosage
Adults
Take 1 tablet a day with a meal, or as professionally prescribed.
Not suitable for use by children under 15 years.
Warnings
Always read the label.
Follows the directions for use.
Supplements may only be of assistance if dietary intake is inadequate.
This product contains selenium which is toxic in high doses.
A daily dose of 150 microgram for adults of selenium from dietary supplements should not be exceeded.
If you have any pre-existing conditions, or are on any medications always talk to your health professional before use.
Some products should be ceased at least two weeks before any elective surgery, please confirm with your health professional.
---
AUST L (if applicable): 322408
AUST R (if applicable):
ARTG ID (if applicable):
Service Information
MyDiscountChemist will refund and/or replace any damaged or faulty stock at no additional charge. We advise the customer to contact us to arrange this as some product manufacturers choose to deal with the customer directly.
Due to Government regulations we cannot refund or return pharmacy medicines and personal hygiene products once they have dispatched from our chemist.
All other items which have been ordered incorrectly by the customer or any unwanted products will be refunded the purchase amount minus the postage charge as long as the packaging is in its original condition. Additionally, any return postage charges will be the responsibility of the customer.
Proof of purchase such as a receipt/invoice is required for all returned items.
You assume any risk of lost, theft or damaged goods during transit – therefore we advise you take out shipment registration of insurance with your postal carrier and that it is packed appropriately. MyDiscountChemist will not be responsible for parcels lost or damaged in transit if you choose not to insure.
It is advised to contact us through eBay regarding all returned and refundable items.
We cannot be held responsible or accountable for any taxes, duties, tariffs, quarantine fees, or package warehousing fees assessed by your local customs office. These charges are separate from your shipping charge, and you will be billed directly from them.
MyDiscountChemist will not knowingly ship any products to any countries that may require any type of license and will not be held responsible or liable for any problems that result at your local customs office. No refunds will be given for items that are seized at your local customs office or not delivered unless returned to us.
Change of mind and attempted delivery returns: Refunds will incur a 20% restocking fee.
Reshipment for domestic deliveries (deliveries within Australia) incur a $6.95 additional fee. International reshipment charges may vary.