SPUNK SILICONE HYBRID LUBE CUM JIZZ FAKE SPERM SEX PLAY CREAMY LUBE TOYS 236ML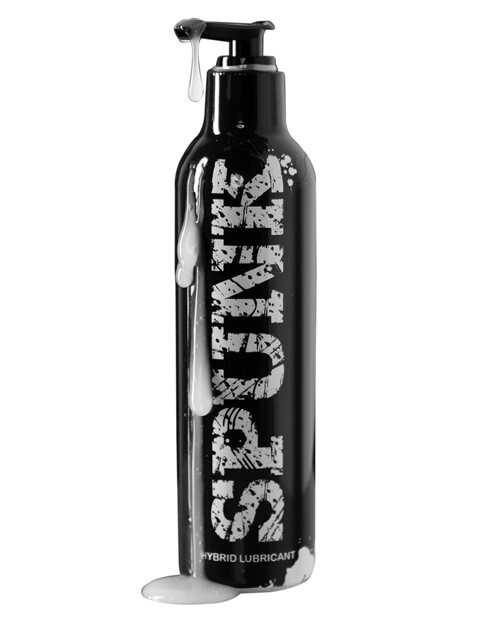 SPUNK Lube Hybrid 8oz 236ml pump. Original award winning cum lube formula that looks like SPUNK. Glycerin free and sex toy safe with all materials. PERFECT for use with all ejaculating dildos, squirting toys or to enhance cumshot pics.
Details
SPUNK Lube Hybrid is a water based silicone lubricant that resembles the look and feel of natural body lubrication (cum lube). It lets you feel the sensation of skin to skin contact. SPUNK Lube Hybrid is a non staining, hypoallergenic formula that cleans up very easily. It's white, creamy and fun to use. SPUNK Lube Hybrid is not sticky, tacky or greasy. It's perfect for anal, vaginal, masturbation, solo, sex, toys, condoms & more. SPUNK Lube Hybrid is formulated with the highest quality of ingredients. It will leave your skin feeling soft and smooth.
SPUNK Lube Hybrid reactivates with water, saliva or sweat. It's the lubricant of choice for many porn stars and adult studios. SPUNK Lube Hybrid is the best all around personal lubricant for any occasion. It's a water based lube that's blended with the perfect amount of silicone. Grab a bottle of SPUNK Lube Hybrid & enjoy "the lube everyone is talking about". Read testimonials and then place your order today.
Made in USA
236ml Pump Bottle
ARTG# 201383
about us
This site contains sexually explicit material including pictures. If you are offended by such material please leave this site immediately. Material used on this site is only for the promotion and sale of adult novelties and lingerie and is not intended for any other use. This is by no means a pornographic material site…. Read More
NEWSLETTER SIGNUP
Add my Store to your Favorite & receive my email newsletters about new items & special promotions!
General Interest
WE ACCEPT
Safe & Secure Payments by:
© 2017 early 2 bed australia. All Rights Reserved.